Easter Weekend Photo Outing
The weather was pretty cooperative this weekend, and gave me the opportunity to both explore my own backyard as well take a couple short photo walks with my wife (she walks, I - err -

photo

...). I took the opportunity to work more with my new super zoom, the Zuiko 100-400mm and came away with a few keepers, but in the backyard, I stuck with my 12-50mm kit lens.
I've often said that it is a great exercise for the creative eye to see and photograph the familiar, and there is nothing much more familiar than one's own backyard. If you are successful at treating your yard as something new and different, you are well on your way to creating stronger compositions wherever you go.
Sometimes, I'll see something intriguing, make the picture and then when I look at the image in Lightroom, even after basic processing, I'll feel like something's missing. When I hit this creative speed bump, I try two things: switch to Black and white, and/or crop the image differently. Turn a 4x3 aspect ratio to 16x9, or try a vertical crop on a horizontal composition. If the image has a lot of texture, or play of light, sometimes switching to black and white is all that is needed to make it pop.
I naively hoped a short visit to this "park on the bluffs" would result in some captures of raptors gliding on the breeze, past the steep cliff edge facing Lake Ontario. Alas, the best options I had for photographing wildlife were robins and overly-caffeinated red squirrels. I did keep the 100-400mm on the camera for the duration, though. It has great properties for macro, and for simply isolating elements against a busy background.
The squirrel was a lovely challenge to track with my zoom. In fact, I was really only considering the little guy as an academic exercise, not expecting usable photographs would come of it. However, he stayed fairly still for about 30 seconds and I cranked off 3 frames before he bolted to parts unknown (or parts he'd forgotten visiting 5 minutes ago).
He also presented a different photographic challenge, in that when I took those photos, the squirrel was in deep shade, with splashes of sunlight falling behind him. I worked with the image in Lightroom on my tablet, correcting general color and exposure first, then working with local adjustments to lighten up my furry friend and tone down the highlights in the background. Additionally, I worked with Texture, Clarity and Noise Reduction to tweak the final image. Below is a before and after of image. 
You can also
view my edit process
for this image​​​​​​​.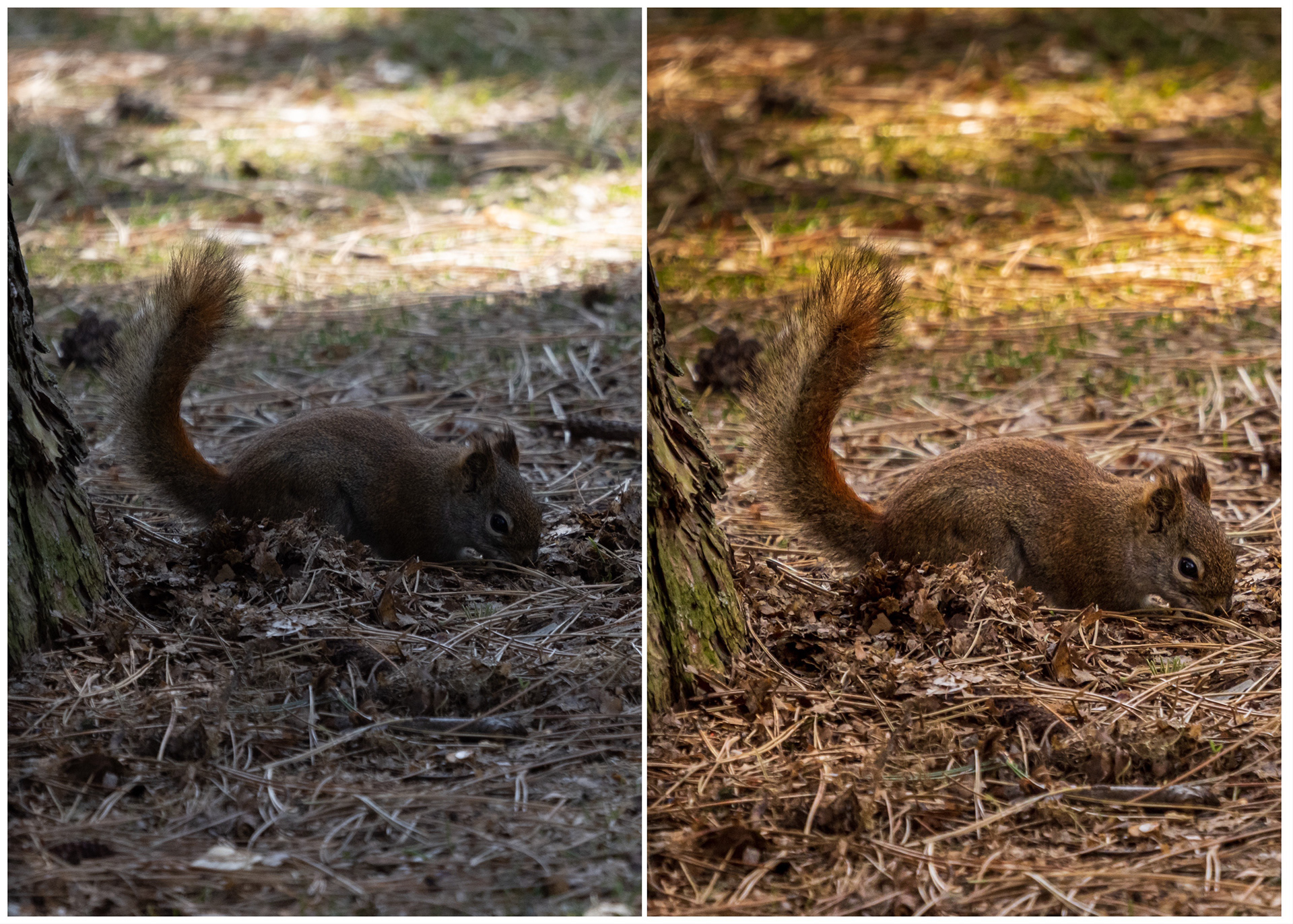 My wife and I were actually married here, in this park, at the Greek Amphitheatre, more than 3 decades ago. The original Guild Inn has long since closed, but a developer has created a lovely mid-century style (IMO) event space that encompasses the original Inn as a heritage component. The grounds - where all the statuary, stonework and facades reside, remain publicly accessible and are managed by the municipal parks authority. There is also a hiking trail along the edge of the Bluffs.
Being on the Bluffs, and with all the wooded areas on the grounds, there is a lot of birdlife - and no doubt other forest dwelling critters. Making our way down one of the walking paths, our ears were overwhelmed by a cacophony of bird calls: jays, cardinals, starlings, chickadees, red-wing blackbirds and robins, flitted about through all the low brush off to the side of path. Many of the birds were so deep in the shrubs that they were almost invisible.
The two birds I managed to capture were a gorgeous cardinal and a downy woodpecker.
The third photo, while it looks like a night shot,  was captured mid-day, but by obscuring the sun behind the tree limb, and then processing the image using a tungsten color correction and reducing overall exposure in Lightroom, I created a night time look to the image.
Shooting landscapes and structures with such a long zoom provides some interesting benefits from the perspectives of distance compression and object isolation.