There are a scant few weekends left before we close up the cottage for the season. And while this past weekend was mostly overcast, it provided some great opportunities for capturing fall color. Some don't realize that overcast skies are actually great for shooting fall leaves, chiefly due to the reduction in contrast. With the lack of strong shadows, you can focus on subtle detail, richer color close up and in larger landscapes, avoid situations where you are battling with excessively bright highlights and deep, dark shadows.
The trick - often, not always - to shooting fall color on an overcast day is to minimize the percentage of cloud cover in your photos. When that grey sky is nothing but a dull, monotone backdrop with no detail or texture, it usually doesn't improve your images. It can even make them appear less vibrant and interesting.
I'm the first to admit that I take full advantage of Adobe Lightroom when processing my fall shots (
teaser - I was also testing out something new to process some of my work but can't say more than that
). Original RAW files are often dull when imported and the last thing you want in autumn shots is dull. 
This series is from two different areas around Rice Lake: River Road in Asphodel-Norwood Township, and Villiers Line, the road into the cottage.
Observation:
I didn't realize it at the time, but I was really making use of shallow depth of field in many images. This wasn't a lighting/exposure restriction so much as a sub-conscious creative choice.
River Road/Asphodel Line 3/Line 2
As I drove down Asphodel Line 3, on my way to check out an area called Asphodel Heights, the intersection of River Road and Asphodel Line 3 stopped me dead in my tracks. Not only was the fall color impressive, there were signs posted to warn drivers the road was a summer-only road and not maintained in the winter (at least not by the municipality). Well, that was enough of an excuse for me! 
I made three trips to this road in less than 24 hours: when I discovered it late afternoon on Saturday, then Sunday morning for more photography, and finally early Sunday afternoon, I took my wife and her friend on a little fall colour tour, of which River Road was the feature attraction.
The road into the cottage is a lovely drive. On either side of the road, the view is in constant flux as fields are sown, grown and harvested.
Fall colour is not just limited to trees; wild grapevine and other creeping vegetation offer up their own autumnal hues.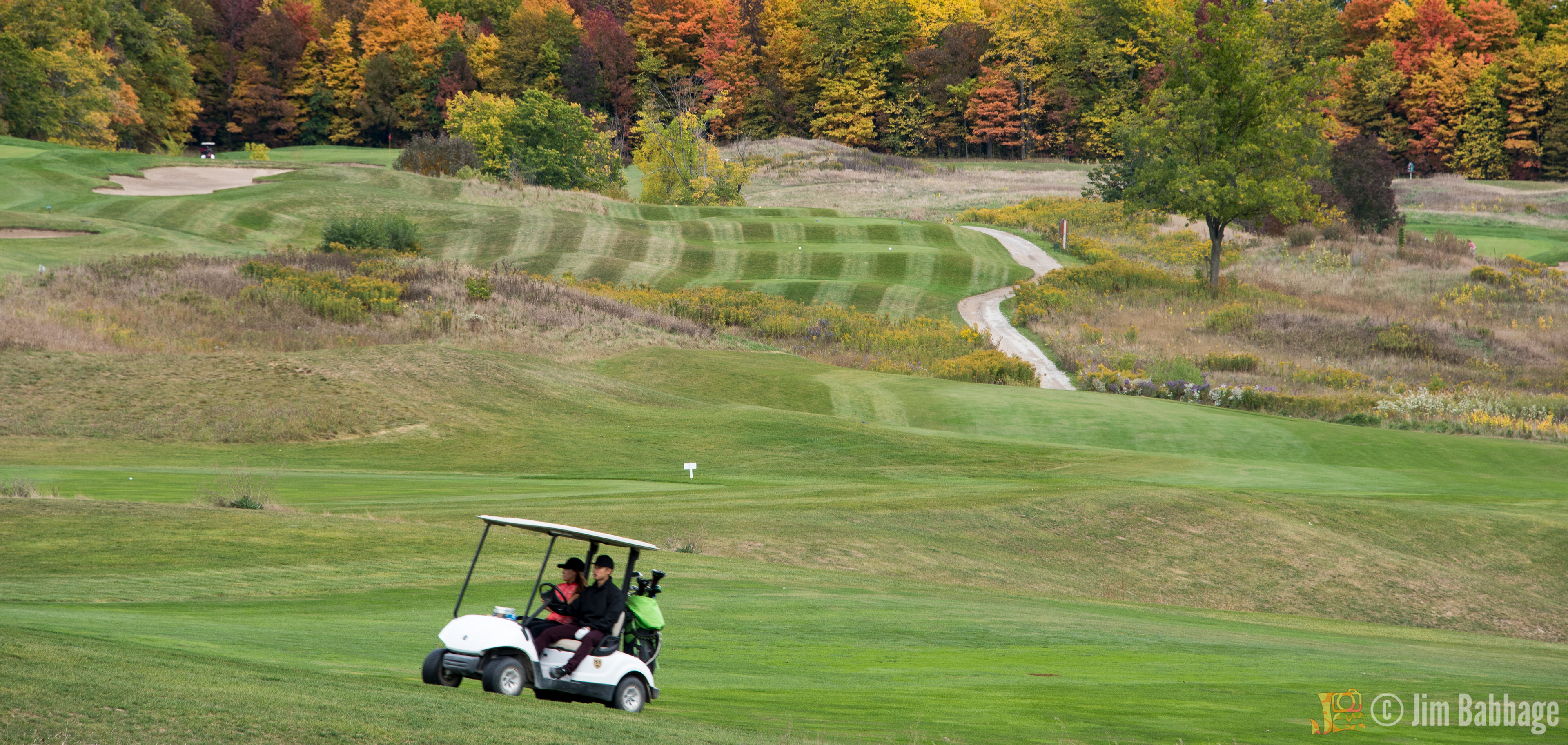 Well there you have autumn in my neck of cottage country. I'll see what this coming Canadian Thanksgiving weekend brings, but the leaves are dropping quickly. Who knows what will be left in a few short days?